Publication
12.07.2014
Envisioning Resilience: Towards Climate Compatible Development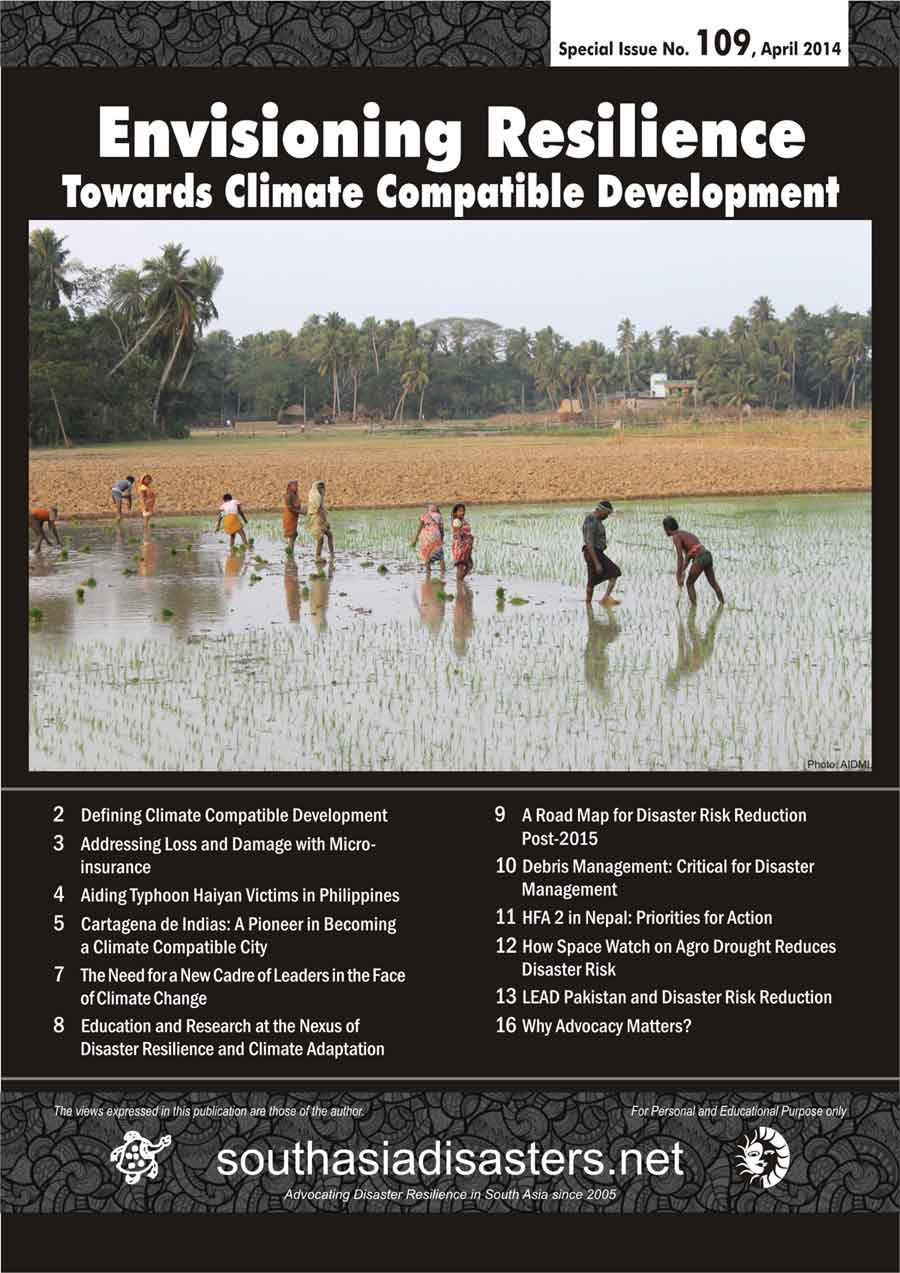 Southasiadisasters.net issue no. 109, April 2014:
What is the vision of resilience? Here is an issue that addresses it.
The 109th issue of Southasiadisaster.net is titled 'Envisioning Resilience: Towards Climate Compatible Development' explores the important theme of 'Climate Compatible Development'. As a novel approach, climate compatible development tries to address the overlap between climate change adaptation (CCA) and disaster risk reduction (DRR) for the achievement of broad development goals. This issue of Southasiadisasters.net entails an overview of the climate compatible development approach. The main purpose of this issue is to highlight the existing and evolving systems of knowledge that can help in tackling these emerging risks. The content includes:
i. Defining Climate Compatible Development
ii. Addressing Loss and Damage with Micro-insurance
iii. Aiding Typhoon Haiyan Victims in Philippines
iv. Cartagena de Indias: A Pioneer in Becoming a Climate Compatible City
v. The Need for a New Cadre of Leaders in the Face of Climate Change
vi. Education and Research at the Nexus of Disaster Resilience and Climate Adaptation
vii. A Road Map for Disaster Risk Reduction Post-2015
viii. Debris Management: Critical for Disaster Management
ix. HFA 2 in Nepal: Priorities for Action
x. How Space Watch on Agro Drought Reduces Disaster Risk
xi. LEAD Pakistan and Disaster Risk Reduction
xii. Why Advocacy Matters?
Themes: Climate Change, Food Security & Agriculture, Insurance & Risk Transfer, Media, Social Impacts & Resilience, Urban Risk & Planning, Vulnerable Populations
TAGS:
Climate change adaptation
disaster risk reduction
HFA2
Loss and damage
Micro Insurance
Download PDF