Peter King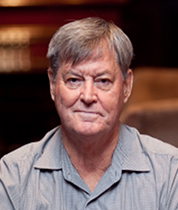 Peter is asking key questions in this Exchange, running for the 9th time. In this discussion, he focuses on climate change adaptation priorities and how countries can better turn priorities into actual projects.


Dr. Peter King is the Senior Policy Advisor at the Institute for Global Environmental Strategies (IGES) Regional Centre based in Bangkok, Thailand.
The 9th Exchange Series
Topic: What Are Your Adaptation Priorities? Examples and Experiences
E-Discussion period: 05.08.2015 - 20.08.2015
E-Discussion Launch Email
Posted on 05 August 2015
Peter King
Dear friends and colleagues,
Thank you for participating in last June's Exchange discussion and 'live' online chat session where we discussed extensively the issue of financing urban adaptation projects in Asia-Pacific and the challenges of getting money and resources to city-level governments that many so urgently need. I am constantly getting feedback that you enjoy these Exchanges and value the opinions and suggestions raised by participants.
Throughout our discussion, the questions of governance (i.e. ensuring efficient flow of money) and prioritization (i.e. matching national and local needs) have resonated. We touched on two very important issues. So as a follow-up, I would like us to deliberate further on one of them in this Exchange – the critical question of prioritization.
Many of you might already know, among the many hats that I wear, I serve as Adaptation Project Preparation and Finance Team Leader for the USAID Adapt Asia-Pacific project. In that role, we work closely with government officials to help them develop solid, bankable project proposals for adaptation financing. A key component of good project preparation is first determining each country's adaptation priorities and actions. Financing is scarce so the highest priority projects should be funded first.
I am interested to learn more about the adaptation priorities in your countries and communities, how you went about defining them, and the successes you have had in focusing resources on addressing those priorities (i.e. translating priorities into actual projects) Please consider the questions below:
What are your top three priorities for climate change adaptation in your country or community? How did you identify these priorities? Have the ; National Adaptation Programmes of Action (NAPAs) and National Adaptation Plans (NAPs) processes under the UNFCCC been helpful to define those priorities? How were the key stakeholders engaged in the prioritization process?
Have you been able to turn your top adaptation priorities into actual climate change adaptation projects? If so, how has that been done? Please share an example. If not, what are the barriers preventing those priorities from becoming concrete, implemented projects? Has available funding dictated which projects are given priority, possibly meaning that the top priority projects are still languishing?
Many have argued that adaptation activities cannot be divorced easily from development. Adaptation should not happen in parallel; it must be mainstreamed into development planning. Is this what is happening on the ground? Is adaptation being integrated within other development investments in your country – whether in transport infrastructure, agriculture, sanitation, etc.? Or is adaptation normally treated as stand-alone projects?
Like the previous Exchange, I will be hosting a 'live' online chat session on Wednesday, 19 August 2015, 10:30am-11:30am (UTC+07:00) Bangkok time to answer any questions and discuss in greater detail the important points coming out of this discussion. Joining me is USAID Adapt Asia-Pacific's Chief of Party, Lee Baker, who will also be taking your questions.
To participate, simply visit the APAN web portal: http://www.asiapacificadapt.net/live-chat and log on to our virtual chat room. We will share more details on how to participate shortly.
I look forward to receiving your responses to the questions above and to another robust and informative Exchange.
Thank you once again.
Dr. Peter N. King
Team Leader
Adaptation Project Preparation and Finance
USAID Adapt Asia-Pacific
Senior Policy Advisor
Institute for Global Environmental Strategies (IGES)