Peter King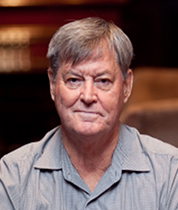 The 8th APAN Exchange was raised by Dr. Peter King on 16 Jun 2015 to engage the APAN climate change adaptation community in Asia and the Pacific. The Exchange period lasted approximately two weeks (16 – 25 Jun 2015).


Dr. Peter King is the Senior Policy Advisor at the Institute for Global Environmental Strategies (IGES) Regional Centre based in Bangkok, Thailand.
The 8th Exchange Series
Topic: Financing Urban Adaptation and Resilience
E-Discussion period: 16.06.2015 - 25.06.2015
E-Discussion Launch Email
Posted on 16 June 2015
Peter King
Dear colleagues and friends,
Thank you for supporting the last Exchange and for sharing your experiences on how we can better mainstream gender into adaptation project design. In this Exchange, I would like us to consider the issue of financing urban adaptation projects and explore some of the challenges getting money and resources to city-level governments.
According to the Overseas Development Institute, there is a severe shortage of climate finance for urban resilience. Less than 5% of the US$1.83 billion approved for adaptation projects by climate funds went into building urban resilience since 2010. Urban projects outlined in the least developed countries' NAPAs under the UNFCCC are also not listed as high priority actions.
Why is this, then, when the impacts of climate change are most felt in cities and at the local level (and with more than one billion people in the AsiaPacific alone living in these low-lying, disaster-prone areas)?
I am keen to explore these issues, understand the barriers on the ground, and learn some of the ways to improve local governments' access to finance and resources that they so urgently need. Please consider the following questions:
What are the main sources of funding for local governments to finance and implement urban adaptation projects?
What are the challenges facing local governments in accessing multilateral and bilateral climate funds, with most funds being accessed by national-level entities, and with many local governments still heavily reliant on central governments for money?
Do you know of any tools, systems, or mechanisms currently in place to allow for better flow of funds from national to local governments that will allow for resources to effectively reach the most vulnerable communities?
Finally, to what extent should city or local governments (and even communities) have autonomy over their spending decisions? Going further, what exactly can multilateral climate funds do to better engage with, and channel needed resources to, cities?
Shortly after this Exchange, I will be hosting a 'live' chat session on Friday, 26 June 2015, 11:00am-12:00pm (UTC+07:00) Bangkok time to answer questions and discuss in greater detail some of the important points coming out of this discussion. Joining me is USAID Adapt Asia-Pacific's Deputy Chief of Party, and urban expert, Bikram Ghosh, who will also be taking questions.
To participate, simply visit the APAN web portal: http://www.asiapacificadapt.net/live-chat and log on to our virtual chatroom. We will share more details on how to participate shortly.
I look forward to receiving your responses and to another robust discussion.
Thank you once again.
Dr. Peter N. King
Team Leader
Adaptation Project Preparation and Finance
USAID Adapt Asia-Pacific
Senior Policy Advisor
Institute for Global Environmental Strategies (IGES) Regional Centre
Bangkok, Thailand