Peter King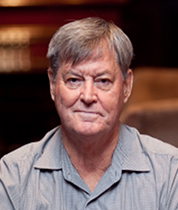 Dr. Peter King is the Senior Policy Advisor at the Institute for Global Environmental Strategies (IGES) Regional Centre based in Bangkok, Thailand.
The 7th Exchange Series
Topic: Mainstreaming Gender into Adaptation: Examples and Experiences
E-Discussion period: 12.03.2015 - 27.03.2015
E-Discussion Launch Email
Posted on 12 March 2015
Peter King
Dear colleagues,
As the world celebrates the achievement of women this International Women's Day, it is a good time for us, in this 7th APAN Exchange email discussion, to reflect on the issue of gender equality as it relates to climate change adaptation.
Thank you to all who contributed in our last Exchange on COP20 and the Green Climate Fund. In this Exchange, we would like to discuss your experiences incorporating gender concerns into climate change adaptation, highlighting the successes and the challenges.
At the USAID Adapt Asia-Pacific project, where I serve as Team Leader for Adaptation Project Preparation and Finance, we are working to help countries access finance for adaptation. Integral to our work is ensuring that the funding is channeled towards supporting women in adaptation solutions. In this sense, we try to go beyond gender mainstreaming and develop targeted, budgeted activities within the adaptation project that not only support better adaptation, but also bring tangible benefits directly to women.
Truly integrating gender concerns into adaptation projects, however, is no easy task. So to help project proponents design gender responsive adaptation projects, we developed an Online Sourcebook for Integrating Gender in Climate Change Adaptation Proposals that provides sector-specific support in the form of compiled resources and related examples from around the globe.
Going forward, we are keen to explore what practitioners across sectors and countries are doing to better incorporate gender into their adaptation work – and how we could all be doing it better. Please consider the following questions:
To what extent, if at all, do you take gender into consideration in designing an activity or project that addresses the negative impacts of climate change? What ideas, concepts, and approaches do you consider?  Do you think it is better to develop a standalone gender component or "mainstream" gender into the whole project design?
Do you find that the inclusion of a gender perspective improves your adaptation projects and the associated outcomes? If so, how? What are the challenges? Do the benefits (i.e. better adaptation, direct benefits accrued to women) outweigh the costs (i.e. additional financial costs, time, expertise, consultations, rounds of approvals)?
How can international funding sources for climate change adaptation (for example, the Green Climate Fund and the Adaptation Fund) better support gender inclusion for adaptive solutions to the impacts of climate change?
Finally, though slightly tangential, we find that gender is often thought of as being about women, though it is equally important to work with men. What, if any, practical solutions have you found to work with men on gender issues in climate change adaptation?
I look forward to your responses.
Thank you once again.
Dr. Peter N. King
Team Leader
Adaptation Project Preparation and Finance
USAID Adapt Asia-Pacific
Senior Policy Advisor
Institute for Global Environmental Strategies (IGES)
Regional Centre
Bangkok, Thailand