Peter King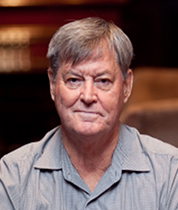 Dr. Peter King is the Senior Policy Advisor at the Institute for Global Environmental Strategies (IGES) Regional Centre based in Bangkok, Thailand.
The 3rd Exchange Series
Topic: Is 'resilience' an operational alternative to 'adaptation'?
E-Discussion period: 10.03.2014 - 02.04.2014
E-Discussion Launch Email
Posted on 10 March 2014
Peter King
Dear colleagues and friends,
I am pleased to launch the third of an ongoing series of email discussions. What began as a pilot community of practice activity, supported by the USAID Adapt Asia-Pacific project, is now growing into a vibrant network of climate change adaptation (CCA) practitioners.
We started our conversation last year focusing first on 'country readiness' among Small Island Developing States in the Pacific and second on COP19, the Green Climate Fund and support from the private sector.
In the 3rd Exchange, I would like us to consider other CCA themes, not only climate finance. I have included in this email those who have been involved, both directly and broadly, with the Asia Pacific Adaptation Network (APAN) – to make this Exchange a wider APAN activity.
Since this is the first email exchange under APAN, let us bring our discussions back to basics and reconsider the terms – 'adaptation' and 'resilience' – that we commonly, and interchangeably, use in climate change. What exactly do we mean by these terms?
Below are some questions to guide our discussion:
What are some of the conceptual definitions of 'adaptation' and 'resilience' in relation to climate change that you or your organization(s) work under? Are they the same or different?
Is the term 'adaptation' sufficient to cover all essential elements of climate change adaptation planning? Or would it be more effective for actors to consider the problem as one of building 'resilience' (i.e. moving away from 'predict and prevent' approaches)?
As 'adaptation' financing is meant to be 'new and additional', is the adoption of the resilience framework simply a way of ensuring that existing Official Development Assistance can be used for adaptation projects?
In the end, is climate 'resilience' really an operational alternative to 'adaptation'?
All comments, thoughts and inputs are valuable and will, hopefully, bring greater clarity and help forge a better understanding of these key terms. I look forward to reading your responses.
Thank you.
Dr. Peter N. King
Senior Policy Advisor
Institute for Global Environmental Strategies (IGES)
Regional Centre
Bangkok, Thailand