Peter King and Tagaloa Cooper-Halo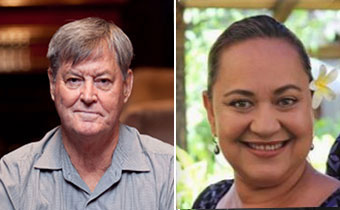 For the 16th APAN Exchange, Dr. Peter King teams up with Tagaloa Cooper-Halo, Director of Climate Change Resilience, Secretariat of the Pacific Regional Environment Programme. In this discussion, they raise questions focusing on "Climate Change Impact Assessments and Adaptation Planning in the Small Island Developing States (SIDS)" 


Tagaloa Cooper-Halo is the Director of Climate Change Resilience for Secretariat of the Pacific Regional Environment Programme (SPREP). She has extensive experience working on climate change adaptation in the Pacific region.
Dr. Peter King is the Senior Policy Advisor at the Institute for Global Environmental Strategies (IGES) Regional Centre based in Bangkok, Thailand.
The 16th Exchange Series
Topic: Climate Change Impact Assessments and Adaptation Planning in the Small Island Developing States (SIDS)
E-Discussion period: 22.03.2018 - 03.04.2018
E-Discussion Launch Email
Posted on 22 March 2018
Peter King and Tagaloa Cooper-Halo
Dear friends and colleagues,
Thank you to all who contributed in our last Exchange on how to use NAPs, NDCs and the SDGs to advance climate resilience in Asia-Pacific. In this 16th Exchange, we would like to bring your attention to highlight the importance of climate change adaptation in the Pacific islands which have not been addressed comprehensively in our other Exchange Series.
Leading this effort is Tagaloa Cooper-Halo, Director of Climate Change Resilience, Secretariat of the Pacific Regional Environment Programme. She has extensive experience working on climate change adaptation in the Pacific region. This is a good opportunity for us to hear and learn from her insightful experience in the Pacific. Tagaloa Cooper-Halo, over to you.
Thank you very much.
Dr. Peter N. King
Senior Policy Advisor
Institute for Global Environmental Strategies (IGES)
Regional Centre
Thank you, Peter.
Fakaalofa atu! Greetings from SPREP!
APAN has been partnering with SPREP on a number of Pacific initiatives over the years and it is again a pleasure to also contribute to the APAN Exchange Series to share our own experience in delivering adaptation initiative in the Pacific.
I am Tagaloa Cooper – Halo, Director of the Climate Change Resilience Programme at SPREP. Prior to my appointment as director, I was the Climate Change Institutional Strengthening Adviser for the 'Institutional Strengthening in Pacific Island Countries to Adapt to Climate Change (ISACC)' Project. A USAID funded initiative lead by the Secretariat of the Pacific Community (SPC) and implemented in partnership with the Pacific Island Forum Secretariat (PIFS) and SPREP. My primary responsibility was to provide climate change policy and technical support to Tuvalu and Samoa in-addition to helping both countries to develop and implement national climate change adaptation strategies with the ISACC Project Team; particularly on training, communication, outreach and knowledge management products.
In 2014, I was appointed as the Climate Change Coordination Adviser for the Global Climate Change Alliance (GCCA) for the Pacific Islands. A Pacific-wide initiative implemented in nine of Pacific island countries.
Experience in the Pacific suggests many things but as a pacific islander myself, adapting to climate change is not an option it is a must! But to do so, I wonder if the current process in place at the national, regional and international level is enough to bring out the change that is needed particularly in small island countries who are already facing the impacts of the changing climate.
With this I leave you with the following questions and I look forward to receiving all your responses:
(1)   How do the NAPs help countries to identify priority actions? Are the priority actions identified in the NAP reflected in current and proposed activities funded through climate finance?
(2)   To what extent have the ambitions of the NAPAs/NAPs been met in the small island developing states, as they have been implemented to date?  Which, if any, aspects of the NAP would you like to be strengthened in the future?
(3)   How are small island developing states weighing up the alternatives to "retreat" (including buying land elsewhere or becoming climate refugees) and "resilience" (including building hard infrastructure and ecosystem-based adaptation) so that island communities can continue to live and thrive in their traditional islands?
Many thanks,
Tagaloa Cooper-Halo
Director of Climate Change Resilience
Secretariat of the Pacific Regional Environment Programme (SPREP)