Peter King and Brianna Ficcadenti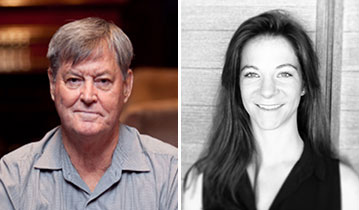 For the 11th APAN Exchange, Dr. Peter King is teaming up with Brianna Ficcadenti, USAID Adapt Asia- Pacific's Senior Technical Specialist for Climate Change Adaptation and Gender.
In this discussion, they raise questions focusing on "How Gender Integration Leads to Better Climate Change Adaptation". You can find the questions below. To contribute, send your responses to: the-exchange@adapt-asia.org. This Exchange ends 31 Mar 2016. We look forward to hearing your views.
Dr. King is the Adaptation Project Preparation and Finance Senior Advisor for the USAID Adapt Asia-Pacific project. Peter is also the Senior Policy Advisor at the Institute for Global Environmental Strategies (IGES) Regional Centre based in Bangkok, Thailand.
The 11th Exchange Series
Topic: How Gender Integration Leads to Better Climate Change Adaptation
E-Discussion period: 22.03.2016 - 31.03.2016
E-Discussion Launch Email
Posted on 22 March 2016
Peter King and Brianna Ficcadenti
Dear friends,
This month marked International Women's Day(link is external) – a day the world commemorates the political, social, and economic achievement of women. In this 11th Exchange, it would be timely for us to redirect our attention to gender equality and women's empowerment, particularly as it relates to our work on climate change adaptation.
Achieving gender equality and taking climate action are two goals under the UN-led 17 Sustainable Development Goals.(link is external) Under these goals are also numerous targets that, while comprehensive, need greater cohesion for effective implementation. At USAID Adapt Asia-Pacific,(link is external) we strive to integrate gender concerns into the climate change adaptation projects we work on so as to bring tangible benefits directly to women.
Leading this effort is Brianna Ficcadenti, the project's Senior Technical Specialist for Climate Change Adaptation and Gender. This is a good opportunity for us to hear from Brianna and learn from her experience. Brianna, over to you.
Thank you very much.
Dr. Peter N. King
Senior Advisor
Adaptation Project Preparation and Finance
USAID Adapt Asia-Pacific
Many thanks, Peter.
Hello, everyone – it's great to have this opportunity to share the successes and challenges we have faced and to learn from your experience on how best to integrate gender into climate change adaptation.
As Peter mentioned, I work with USAID Adapt Asia-Pacific's(link is external) partners to incorporate gender and social inclusion in the design of adaptation projects. One of the key ways we do this is by developing targeted, budgeted activities that respond to the needs of often-excluded groups, such as women, indigenous people, youth and others, all the while contributing to the overall objective of adaptation. This usually translates to ensuring that funds and resources are channeled towards tangible support for women and girls, or other marginalized groups.
The economic case for gender equality is now overwhelming. As the World Economic Forum's Founder and Executive Chairman, Klaus Schwab, noted in his preface to the latest Global Gender Gap Report 2015(link is external), "people and their talents are among the core drivers of sustainable, long-term economic growth. If half of these talents are underdeveloped or underutilized, growth and sustainability will be compromised."
The same can be said of adaptation: people drive the process, so if half the people (i.e. women) are underutilized, our goals will no doubt be compromised.
Last March, Peter held a similar discussion on the topic of mainstreaming gender into climate change adaptation. In that discussion we learned how this community has leveraged the momentum of adaptation to help women. This year I'd like to focus on the flip side of that coin:
How, in your experience, do women help adaptation?
I am interested to learn how and what others in the field – whether in government, development agency, or NGO – are doing to better achieve gender equality and thus develop more effective climate change adaptation programs, projects, and activities. Please consider the following specific questions:
We found that the best way to advocate for incorporating gender into adaptation projects is to make the connection that gender inclusion produces stronger, more sustainable adaptation outcomes. Have you used a similar reasoning in your work? Is it successful? What other arguments have you used? And for those who don't work on gender issues, what reasons for gender inclusion would you find most persuasive?
On this year's International Women's Day 2016(link is external), there was a strong call to action for gender parity – particularly in leadership positions. At USAID Adapt Asia-Pacific, we have done some work to build the capacity of female adaptation champions within national government institutions, like this woman from Vietnam(link is external). How else can we empower women to lead and drive adaptation planning and management at the national level? How do/would these activities impact adaptation efforts more generally?
In the projects we design, we often include support for woman – such as providing childcare – to ease the infamous double burden on women of active participation in public life and responsibilities for maintaining the household. What other mechanisms have you used (or know of) to overcome the double burden of balancing public work and domestic life? And what about to overcome the cultural barriers that can inhibit women from participating in the first place?
In addition to women, another group that is often excluded from decision making in relation to climate change adaptation is young people. This group, however, is likely to suffer most from future climate change if appropriate mitigation and adaptation measures are not put in place today. In your experience, how have youth been brought into adaptation planning and implementation? Could more be done to involve them in a meaningful way? Would better inclusion of youth improve adaptation outcomes?
I very much look forward to hearing your views on any of these questions. Learning from your experience will greatly inform this community of practice and, importantly, help us all do our adaptation work a little better. Thank you once again for the opportunity.
Kind regards,
Brianna Ficcadenti
Senior Technical Specialist
Climate Change Adaptation and Gender
USAID Adapt Asia-Pacific