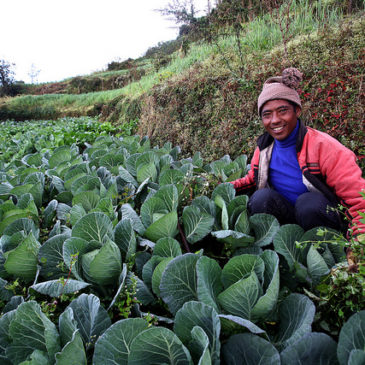 Adaptation to climate change in the agricultural sector and related sectors is a major challenge for Nepal. The majority of the population still depends on highly climate-sensitive agriculture. In recent years, long drought spells during the monsoon season and increased temperatures and unseasonal heavy rains during winter have caused serious distress to agriculture-dependent communities in many locations. If the Sustainable Development Goals (SDGs) of ending poverty, achieving food security and promoting sustainable agriculture are to be realised, climate change adaptation interventions need to be implemented in earnest.
To address these challenges, the Scaling up climate-smart agriculture in Nepal project, aimed to (1) identify, test and screen climate-smart agriculture practices and technologies suitable for various agro-ecological zones; (2) develop pathways for scaling up champion climate-smart agriculture options; and (3) enhance the capacity of stakeholders and generate evidence-based knowledge materials to support the dissemination of climate-sensitive agricultural technology and practices.
The project was implemented in collaboration with local communities, Village and District Development Committees, District Agricultural Development Offices, and steered by a Project Advisory Committee, which comprised high-level representatives from the Ministry of Agricultural Development, Ministry of Population and Environment, Department of Hydrology and Meteorology and other departments working in agriculture and related sectors.
The project identified a shortlist of climate-smart agriculture technologies, practices and services relevant for the agricultural production system of Nepal. A set of climate-smart agriculture technologies was prioritised in consultation with key stakeholders, including farmers, and evaluated in their fields. Pathways for scaling up the selected champion climate-smart agriculture technologies were assessed on the basis of their nature, agro-ecological context and existing policies and programmes. The analysis showed that the pathways to scaling up follow a complex non-linear path, are dependent on agroecological context and need multi-sectoral collaboration.
This paper provides an overview of the project's methodology and findings. It synthesises the research, field testing and policy work done over the project period – with the aim of informing the Ministry of Agricultural Development and other stakeholders involved in agriculture in their efforts to further enhance climate-smart agriculture across Nepal.