Publication
03.03.2017
Innovative Financing for the Adaptation Fund: Pathways and Potentials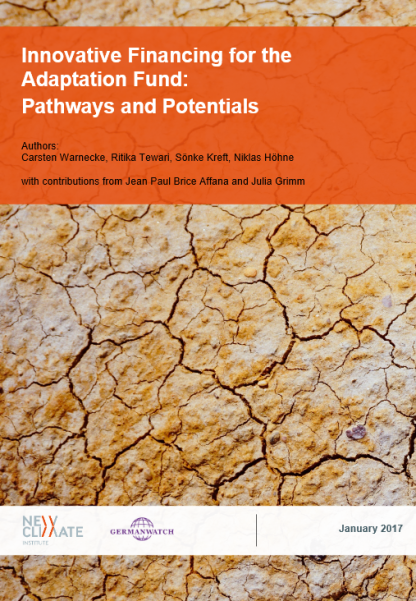 This new report explores the potential of seven innovative climate finance options to meet the financing needs of the Adaptation Fund. It concludes that if implemented in a collective manner, these can provide a steady and predictable stream of finance for the Fund. However, the Adaptation Fund Board needs to proactively engage with relevant decision makers, following a dynamic resource mobilisation strategy. Potential engagement pathways for each option are discussed as well.
The publication is authored by NewClimate Institute and Germanwatch and supported by the International Climate Initiative (IKI).
Background
The Adaptation Fund has emerged as an important agent in the multilateral adaptation finance landscape and has funded over USD 357.5 mln in 63 countries in the past five years. Demand for the Fund is high and rising. Over 20 new project submissions were received in the last Adaptation Fund Board meeting despite its revenue uncertainties. COP 22 also saw willingness among countries to carve a role for the climate fund under the Paris Agreement. However, the Fund has been facing severe funding challenges after its primary revenue stream of innovative finance from CDM share of proceeds dried up. The near- and medium-term funding needs of the Adaptation Fund are estimated to be in the order of USD 130 million annually, only to run its national programmes.
Against this backdrop, this study followed the history and experiences of the CDM levy and assessed options deriving from different carbon pricing instruments and approaches using a qualitative multi-criteria assessment framework.