NEWS
18.05.2022
Universities are increasingly stepping up for locally-led adaptation and resilience action: what are some of their critical success factors when partnering with communities?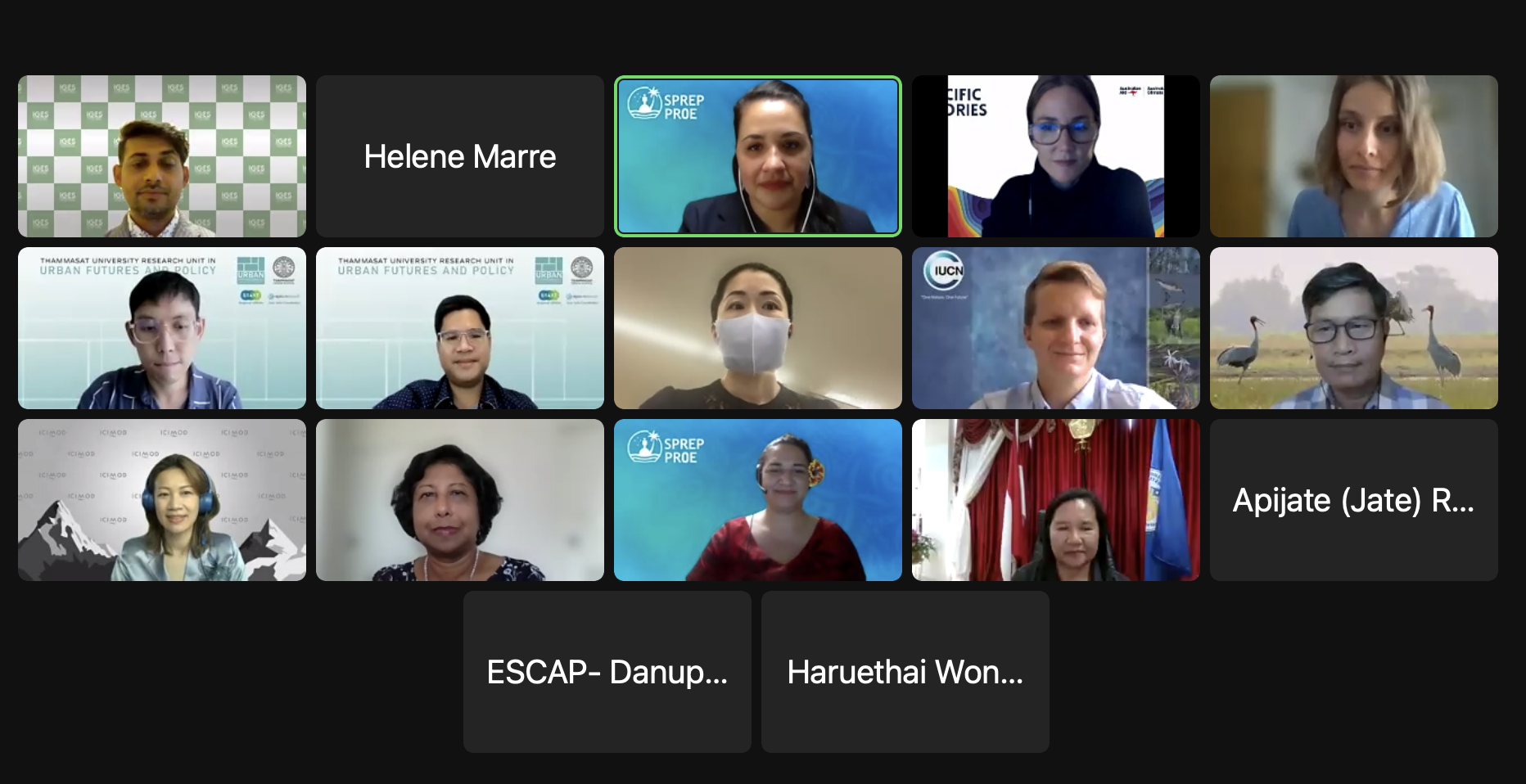 To foster the scale-up and uptake of successful partnerships between academic, research institutions and communities in the region, APAN organised a webinar on 12 May 2022. The webinar brought together researchers, academics, university students and project managers across the Asia-Pacific region to discuss their initiatives' success factors and challenges in working together with communities to close local adaptation and resilience knowledge gaps. 
Asia-Pacific is one of the regions most vulnerable to the effects of climate change. In particular, communities living in mountain areas, low-lying coastal areas and islands are deeply impacted by increasing temperatures, rising sea levels and intensifying storms. Even though these communities are on the frontline of climate change, they rarely have a say in decisions that directly affect their lives and livelihoods. However, in recent years, more attention has been given to empowering local communities for climate change adaptation and resilience-building. Academic and research institutions are key partners to engage in this endeavour. 
"Academic and research institutions are well placed to support addressing local knowledge gaps, bringing up traditional and indigenous knowledge and connecting it with scientific knowledge, co-designing innovative locally-driven adaptation and resilience solutions with communities, leading bottom-up research and creating enabling conditions for community-based initiatives. Fostering the uptake of such initiatives in the region and beyond will go a long way to support climate change adaptation and resilience action, " said Isabelle Louis, Deputy Director, UNEP Asia and the Pacific Regional Office. 
Building any partnership requires time and commitment, however, there are special conditions when engaging with vulnerable communities. One of the crucial success factors that resonated well with all initiatives, including Educational Partnerships for Innovation in Communities – Network (EPIC-N), was the need to build on existing relationships with communities when possible. 
"EPIC-N links knowledge to practice by building on existing structures, using existing capacities through lecturer-student partnerships and curriculums," said Nuttavikhom (Kay) Phanthuwongpakdee , EPIC-N Asia Coordinator and lecturer at Thammasat University, Thailand. 
Another success factor identified by EPIC-N was the need for academic and research counterparts to be highly considerate of cultural and social norms of engagement within each community. In this regard, the identification of champions on both sides can help bridge the gap between academics, researchers and communities. 
When promoting Indigenous and Local Knowledge (ILK), the engagement of youth leaders e.g. university students and early career researchers at the planning stage has been decisive for the documentation, blending of ILK with scientific knowledge and validation of ILK as demonstrated by the Institute for Global Environmental Strategies (IGES) and International Centre for Integrated Mountain Development (ICIMOD)-Himalayan University Consortium (HUC). 
"Asia Pacific universities tend to look West and North for their curriculums but this needs to change. Universities should not be isolated from communities and it is time to take local knowledge back to curriculums for transformative learning," said Chi Huyen Truong (Shachi), HUC Programme Coordinator, highlighting win-wins for communities and universities in partnering for climate change adaptation and resilience. 
International Union for the Conservation of Nature (IUCN) Asia and Mekong Wetland University Network (MWUN) partnership and other initiatives also highlighted the need to ease communication and address key complexities when implementing projects with communities. A key aspect in this regard was to offer trainings and materials for local wetland managers in their own language. The project went through a two-step process, whereby 30 university lecturers and government officials received a regional wetland resilience training of trainers (ToT) that they adapted and translated to fit their own country context. This allowed the institutionalisation of project results. Several initiatives also encouraged the mainstreaming of project results in local adaptation planning. 
​​​​In order to fill some of the adaptation knowledge gaps identified through the Lima Adaptation Knowledge Initiative (LAKI), a joint action pledge between UNFCCC and UNEP,  University of Michigan (U-M) students – as part of the UN Climate Change and Universities Partnership Programme – presented their research project with Australia Pacific Climate Partnership (APCP). Focusing on the Pacific Island nations of Vanuatu and Samoa, the U-M students are exploring the needs and challenges of marginalised communities in accessing and using important climate information to make strategic decisions for their community. While the project is still in its infancy stage, project partners are aware of the importance to sustain the project's results and ongoing partnership by identifying funding opportunities to implement and build upon the research for the benefit of Pacific communities.
To learn more about all partnerships, their success factors and challenges, watch the session recording here.
In 2022, APAN will host a series of webinars to enhance understanding of COP26 outcomes while looking ahead to COP27. The next APAN webinar will be organised on 21st July 2022 under the theme of loss and damage. Registration will be announced in due time. 
Developed and launched by the
United Nations Environment Programme (UNEP)
in 2009 under the
Global Adaptation Network (GAN)
, the Asia-Pacific Network (APAN) is an open network that strives to equip adaptation practitioners in the Asia and the Pacific region with the knowledge and means to design, implement, monitor and report on climate change adaptation measures, foster access to technologies and finance, and increase capacity for integrating climate change adaptation into national, sectoral and local development policies, strategies and plans.