Peter King and Sibyl Nelson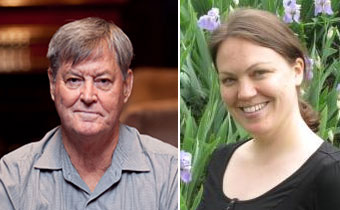 For the 15th APAN Exchange, Dr. Peter King teams up with Sibyl Nelson, Gender Advisor, Integrating Agriculture in National Adaptation Plans Programme, Food and Agriculture Organization (FAO). In this discussion, they raise questions focusing on "Mainstreaming Gender into Climate Change Adaptation Programmes and Policies" 


Sibyl Nelson is the Gender Advisor to the "Integrating Agriculture in National Adaptation Plans" Programme, jointly implemented by the Food and Agriculture Organization (FAO) and the United Nations Development Programme (UNDP)
Dr. Peter King is the Senior Policy Advisor at the Institute for Global Environmental Strategies (IGES) Regional Centre based in Bangkok, Thailand.
The 15th Exchange Series
Topic: Mainstreaming Gender into Climate Change Adaptation Programmes and Policies
E-Discussion period: 08.03.2018 - 22.03.2018
E-Discussion Launch Email
Posted on 08 March 2018
Peter King and Sibyl Nelson
Dear friends and colleagues,
Thank you to all who contributed in our last Exchange on how to use NAPs, NDCs and the SDGs to advance climate resilience in Asia-Pacific. With the 2018 International Women's Day taking place this week, I would like to bring our attention to gender and climate change adaptation – in particular, learn from your experiences on what it takes to mainstream gender into climate change adaptation programmes and policies.
Leading this effort is Sibyl Nelson, Gender Advisor (FAO) to the "Integrating Agriculture in National Adaptation Plans" Programme, which is jointly implemented by the Food and Agriculture Organization (FAO) and the United Nations Development Programme (UNDP). Based in Rome, Italy, Sibyl has been working on the gender dimensions of climate change adaptation for ten years and is currently supporting eleven countries to mainstream gender into their National Adaptation Plans for the agriculture sectors. Sibyl Nelson, over to you.
Thank you very much.
Dr. Peter N. King
Senior Policy Advisor
Institute for Global Environmental Strategies (IGES)
Regional Centre
Thank you, Peter.
Greetings to all! It is a pleasure to take part in this forum and engage with the APAN community. As most of you are likely aware, global momentum to address the gender dimensions of climate change is growing, as shown, for example, by national commitments on gender in NDCs(link is external) and the launch of the Gender Action Plan(link is external) at COP 23. There seems to be widespread acceptance that gender matters in adaptation, not only because gender roles and inequality shape vulnerability and resilience, but also because institutions and policies can unintentionally reinforce inequalities if socio-economic issues are not addressed.
The challenge for us is to make sure that these commitments are translated into concrete action, especially in the agriculture sectors, which are a top priority for adaptation in many countries.
Already in the Asia Pacific region there are many initiatives and resources on mainstreaming gender into climate change adaptation, for example:
I hope this forum can serve as an opportunity to gather experiences and insights into what is working on gender mainstreaming in climate change adaptation and what more is needed to ensure that gender equality is promoted and achieved in climate change adaptation. With this in mind,  Please consider the questions below:
How would you define the key gender issues relevant to adaptation planning and what are two or three entry points in adaptation planning where those issues can be addressed?Please provide practical examples of steps in program or policy planning when gender mainstreaming has taken place.
What are the existing gaps in capacity to mainstream gender in adaptation and what approaches are needed to close them? Feel free to comment on issues like knowledge gaps, such as skills on gender analysis or gender budgeting, as well as attitude changes. Please also recommend resources or initiatives that have been used in developing capacity, both at individual level (e.g. trainings, webinars) and institutional level (e.g. organizational gender equality policies).
In your experience, how can we ensure that the gender dimensions of adaptation are measured and reported on? Please share insights into the design of gender-sensitive indicators, the collection of sex-disaggregated data (quantitative and qualitative), as well as ideas of sources of information and effective means of disseminating findings.
Many thanks,
Sibyl Nelson
Gender Advisor, Integrating Agriculture in National Adaptation Plans Programme
Food and Agriculture Organization (FAO)