Peter King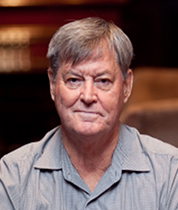 For the 14th APAN Exchange, Dr. Peter King, Senior Policy Advisor at the Institute for Global Environmental Strategies (IGES) Regional Centre is asking key questions on "How to use NAPs, NDCs and the SDGs to advance climate resilience in Asia-Pacific?"


Dr. Peter King is the Senior Policy Advisor at the Institute for Global Environmental Strategies (IGES) Regional Centre based in Bangkok, Thailand.
The 14th Exchange Series
Topic: How to use NAPs, NDCs and the SDGs to advance climate resilience in Asia-Pacific?
E-Discussion period: 17.01.2018 - 30.01.2018
E-Discussion Launch Email
Posted on 17 January 2018
Peter King
Dear friends and colleagues,
It has been a while since I've reached out to you using this platform as we have had a change of staff in IGES. Each Exchange that we've done in the past, the last 13 of them, has been a tremendous learning experience. I am hoping to revive this knowledge exchange platform, particularly with the recent conclusion of COP23, and ask you to consider some important questions related to NAPs, NDCs and the SDGs.
There is continued emphasis to support countries in planning for adaptation among development partners, particularly from the Ministry of the Environment, Japan and UNDP. Part of this planning process necessarily falls under the NAPs and the NDCs. Developed countries have tended not to include adaptation in their NDCs, although all countries are likely to experience the need for climate change adaptation, even if the 2 degrees target of the Paris Agreement is achieved.
In order to reach the target set in the Paris Agreement and stay below two degrees, all countries need to consistently and effectively implement current NAPs and NDCs and continuously enhance them over time, ratcheting up ambition not only for mitigation. More specifically, how can we use these processes, including the SDGs, to advance climate resilience in Asia and the Pacific?
For this 14th APAN Exchange Series, please consider the following questions:
1. What are the linkages between NAPs and NDCs and how can we align the NAPs and NDC processes with the SDGs?
2. In what ways can countries use NAPs, NDCs and the SDGs to advance climate resilient development in Asia-Pacific?
3. Should adaptation ambition be ratcheted up under the Paris Agreement, and how might this be done through revised NAPs and NDCs?
I look forward to receiving your responses and to another robust and informative Exchange discussion.
Thank you very much.
Dr. Peter N. King
Senior Policy Advisor
Institute for Global Environmental Strategies (IGES)
Regional Centre