Peter King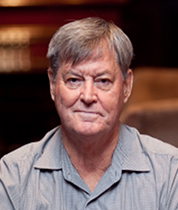 Dr. Peter King is the Senior Policy Advisor at the Institute for Global Environmental Strategies (IGES) Regional Centre based in Bangkok, Thailand.
The 12th Exchange Series
Topic: Ensuring Sustained Impacts of Donor-Driven Programs: Examples and Experiences
E-Discussion period: 20.06.2016 - 04.07.2016
E-Discussion Launch Email
Posted on 20 June 2016
Peter King
Dear friends and colleagues,
Thank you for supporting this Exchange Series. Over the last three years, we've reflected on many key climate and development topics and learned so much from one another. I greatly appreciate every response, idea and experience that you've taken the time to share. It is indeed through your contributions that we've managed to foster and grow this Community of Practice.
Some of you might be aware that this Exchange Series was conceived by the USAID Adapt Asia-Pacific(link is external) project team. It continues to be implemented and supported by the project as a way to meaningfully engage with APAN's broad network of adaptation practitioners, including government officials.
Helping eligible government officials obtain financing for climate change adaptation is USAID Adapt Asia-Pacific's mission since 2011. This is achieved through a combination of direct government support in project preparation and capacity building at the regional, national and local levels.
In 2016, the USAID Adapt Asia-Pacific project will come to a close. One item that remains high on our agenda is the question of sustainability – particularly, how best to sustain our impacts and, more generally, how to ensure donor-driven programs, like ours, continue to deliver results beyond the life of the project.
Allow me to take this opportunity to seek your feedback and learn from your experience in sustaining project impacts. Please consider the following questions:
1. At USAID Adapt Asia-Pacific, we partner with institutions, like Climate Change Asia at the Asian Institute of Technology, Thailand, to house and deliver capacity building programs, such as the USAID Adapt Asia-Pacific "Urban Climate Change Adaptation and Resilience Training Course"(link is external) and the recent "Managing Project Preparation for Climate Change Adaptation Training Course".(link is external) We leverage the capabilities and goodwill of counterpart agencies and see this as one method to disseminate and sustain our project's knowledge among training institutions and government agencies. In your experience, what other methods are there to help disseminate and sustain similar knowledge and capacity building activities, once the principal funding ceases?
2. The need to view sustainability as a critical issue in all donor-driven programs is paramount because development partners, and also countries, often pay little attention to projects once they're completed. Valuable lessons learned are lost and information becomes outdated rapidly. What strategies do you think are available to convince countries, as well as development partners, to take a more proactive role in continuing a valuable activity after the initial funding ceases? What conditions foster a successful handover and ownership that better ensure sustained impacts at the national and local levels? Finally, how do we transform our current approach to development in order to guarantee more long-term impacts?
3. In your experience, does it make sense to revisit the question of impacts some years after project completion, as is often done by the Asian Development Bank and the World Bank for their loan projects? Capacity building is notoriously difficult to measure impacts because of the attribution issue, so does the transition to a post-project environment make post-evaluation invalid for capacity building projects like USAID Adapt Asia-Pacific? Is there any good example of a post-evaluation of a capacity building project in a domain other than climate change?
I look forward to receiving your responses and to another robust discussion.
Thank you very much.
Dr. Peter N. King
Senior Advisor
Adaptation Project Preparation and Finance
USAID Adapt Asia-Pacific