4th Asia-Pacific Climate Change Adaptation Forum – Marketplace 
The 4th Asia-Pacific Climate Change Adaptation Forum Marketplace will showcase a dynamic and diverse range of organisations, products, services, information and knowledge specifically on climate change adaptation. It's also a conducive space for all participants to meet up, network, read publications, and watch videos that are on display.
Marketplace Map (click for larger size or view as PDF)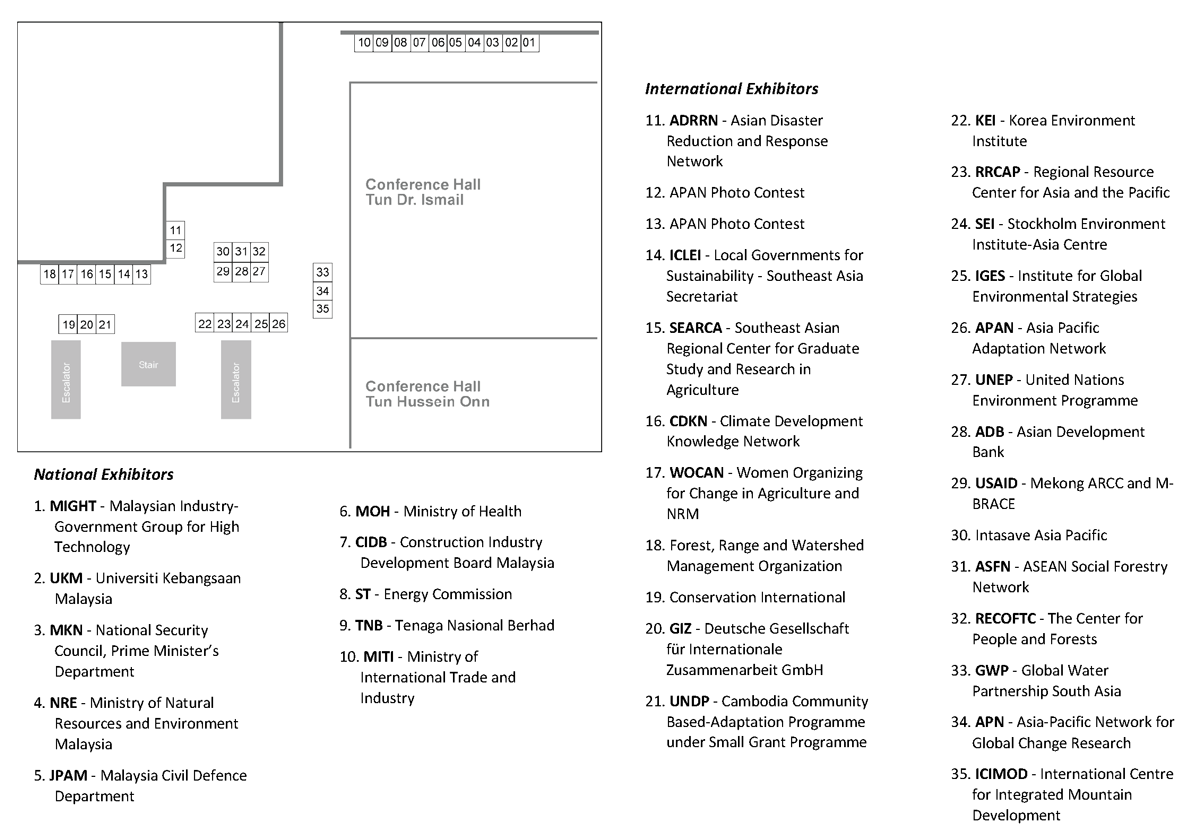 Points to Note
Booths are reserved on a 'first come, first served' basis

Registrations must be submitted before August 31, 2014

Actual booth set up will have to be finished one day prior to the opening ceremony

(in other words, exhibitors are requested to set up their booths from 5pm-10pm on 30th September 2014)

Your booth should remain open for the entire duration of the Forum. It's important that a representative/exhibitor be present at all times during the Forum.

Booths will have a size of 2x2 meters and will be equipped with a power source.

We apologise that no assistance or support will be provided for your set up.

Exhibitors are responsible for their material and belongings, and neither the Forum organisers nor the venue managers will be responsible for the loss or damage of your exhibition materials.

 There is no charge to set up a booth, but the Adaptation Forum 2014 Secretariat and partners reserve sole discretion of exhibitors allowed to participate in the Marketplace.

A brochure describing the Marketplace setting and booth layout will be made available shortly on this webpage.
For exhibitors who would like to ship materials beforehand, please contact and ship your materials to the address below:
Mr. Lim Choun Sian
Senior Research Officer
SEADPRI-Universiti Kebangsaan Malaysia
Bangunan Kompleks Kris Mas, UKM 43600 Bangi, Selangor D.E., Malaysia
Email: marketplace@asiapacificadapt.net
Phone: +603 8921 4852
Fax: +603 8927 5629
Important Notes for Shipment
Please note that there will be a narrow window for the material to be received. Materials should arrive between 15 and 26 September 2014.

The storage/transportation fee will range from USD150-USD250 (borne by exhibitors), depending on the weight and size of the packages. 

The exhibitors when making arrangements with their courier company are to make sure shipments are delivered to SEADPRI-UKM's office site and 

before 27 September 2014

.

The weight and size of the each package should

not to exceed 20 kilograms and/or 2 meters in length/width/height

.

The organisers will not be responsible in retrieving them from courier's warehouse in the case of over-sized/weight packages. 
Exhibitors will be given instructions on how and when to retrieve material when SEADPRI-UKM confirms receipt of their material via email.
If you need more information about the Marketplace, contact Mr. Lim Choun Sian at marketplace@asiapacificadapt.net