Waste Stabilisation Ponds
ENTRY DATE: 03.05.2015 | LAST UPDATE: 03.05.2015
CATEGORIES:
Water Resources
Wastewater treatment
TECHNOLOGIES MATURITY:
Applicable immediately
Technology Owners:

Communities
Implementing organisations
Needs Address
Good option for decentralised treatments because of the low capital and particularly low operation and maintenance costs
Good treatment of pathogens in a low-cost natural processes
Adaptation effects
Ecologically sustainable method of wastewater treatment for irrigation and fish pond fertilisation
Overview and Features
Large, shallow basins that enable the natural treatment of raw sewage using algae and bacteria. Wastewater stabilisation ponds can be used to treat both domestic wastewater and industrial wastewater. Anaerobic and facultative ponds re used to remove Biological Oxygen Demand, while maturation ponds remove pathogenic organisms.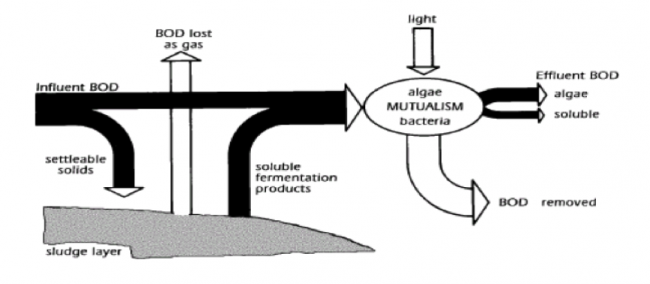 Figure: Biological Oxygen Demand Removal in Facultative Ponds (UNEP, n.d.)
Cost
Costs for construction, maintenance
Relatively low costs for construction and operation
Energy source
Solar energy
Ease of maintenance
Regular maintenance required including cleaning, controlling levels of scum and solids and repairing embankments and fences
Regular assessment of performance and corresponding responses are required
Technology performance
Inappropriate design processes in the past have hindered success in implementation and sustainability
The level of sunlight in tropical countries enables effective performance of water cleaning in wastewater stabilisation ponds
Considerations
Comprehensive design processes require an interdisciplinary team of experts in chemistry, hydrology, soil science, plant biology, natural resources, environmental management, ecology, environmental engineering, surveying, and project management.
The design and operation of waste stabilisation ponds must be adjusted according to the context of its implementation, accounting for differing climates and contextual priorities e.g. nutrient removal versus removal of pathogenic organisms
Co-benefit, suitability for developing countries
Effluent can be reused in aquaculture or for irrigation in agriculture
Waste stabilisation ponds are a low-maintenance, ecologically sustainable, simple, robust, low cost and low energy technology thereby providing a feasible technology option in developing countries
Well suited for low-income tropical countries that have a large amount of sunlight yet limited energy sources for other forms of wastewater treatment
Management requires a team of trained professional with different roles including a manager, assistant manager, engineers, work foreman, laboratory chemist, assistant laboratory chemist, technicians, artisans and clerks
Information Resources
Kayombo, S., Mbwette, T.S.A., Katima, J.H.Y., Ladegaard, N. and Jørgensen, S.E. n.d. Waste Stabilization Ponds and Constructed Wetlands Design Manual. UNEP-IETC and Danish International Development Agency (Danida). Available from: http://www.unep.org/ietc/Portals/136/Publications/Water&Sanitation/PondsAndWetlands_Design_Manual.pdf [18 January 2015]
Mukhtar M, Ensink J, Van der Hoek W, Amerasinghe FP, Konradsen F. 2006. Importance of waste stabilization ponds and wastewater irrigation in the generation of vector mosquitoes in Pakistan. Journal of Medical Entomology. 43:996–1003.